April 16, 2021: According to reports by the local media, Pakistan's interior ministry has instructed Pakistan Telecommunication Authority to suspend Facbook, Whatsapp, Youtube and Twitter today with immediate effect.
According to the interior ministry notification, a temporary ban has been imposed on social media platforms Twitter, Facebook, YouTube, WhatsApp and Telegram have been suspended in Pakistan from 11am till 3pm on Friday.
The ministry said that the Pakistan Telecommunication Authority had suspended the social media platforms on its instructions.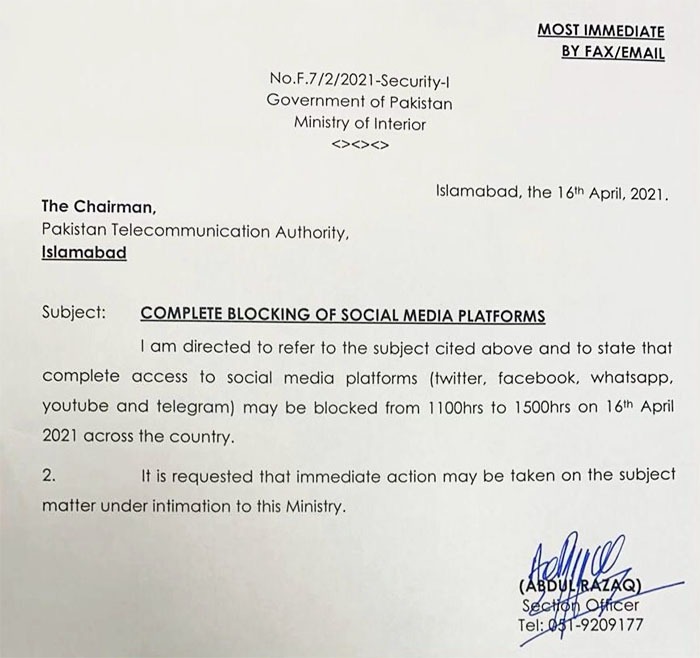 The action was taken after a letter was sent to the PTA chairperson by  the interior ministry.
Speaking on condition of anonymity, a PTA official, said: "In order to maintain public order and safety, access to certain social media applications has been restricted temporarily."
The suspension comes amid protests by a religious party in the country which led to chaos and the killing of three people, including two policemen.
The protests, organised in different cities, also caused massive traffic jams and distress to the citizens.
The Ministry of Interior said in its notification that the government has reasonable grounds to believe that the TLP "engaged in terrorism, acted in a manner prejudicial to the peace and security of the country". The group "intimidated the public, caused grievous bodily harm, hurt and death to the personnel of law enforcement agencies and innocent bystanders", it said.
The party has been proscribed under section 11B (1) of the Anti-Terrorism Act, 1997. It empowers the government to ban an organisation involved in terrorism.
Stay tuned to BaaghiTV for latest news and Updates!