Nadia Hussain Clears the Air Regarding Her Viral Video
Actress and model Nadia Hussain has termed her recent viral video baseless, false, and taken out of context, wherein she is seen scolding a housemaid, and now the employee herself has released a statement too. 
Recently, a video of popular actress and model Nadia Hussain went viral on social media in which she was seen angry at an employee for being negligent about some electrical objects which could possibly cause someone harm. Somehow, this video went viral, got taken out of context and social media users criticized her.
The actress later clarified the matter, saying it was an advertising campaign.
However, a video of a girl named Rani was shared by Hello magazine yesterday, who is called Nadia's maid in the caption.
In the video, the girl is admitting that it was her fault, she was on her phone, not caring about the potential danger. Nadia treats me like a sister, don't call her bad, she said.
Under the same post, Nadia Hussain made a comment stating that Rani was not her maid and never has been.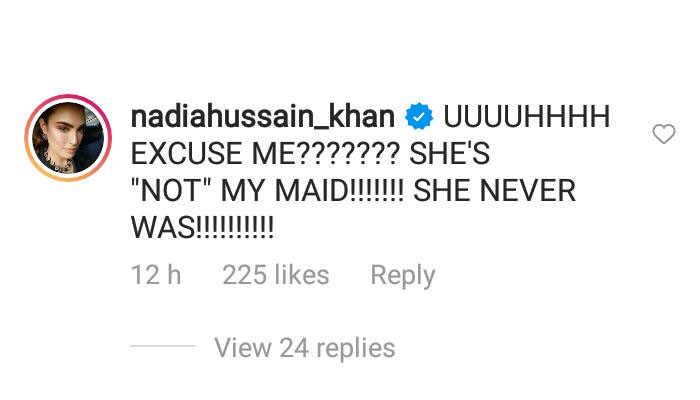 Stay tuned to Baaghi TV for the latest news and updates!