While You Were Sleeping is a K-drama I recently watched. It was aired in 2017, starring Bae Suzy, Lee Jong-Suk and Jung Hae In. Definitely an amazing drama, worth watching.
The story was different from other K-dramas that I have watched. For me, it stands out from all other Korean dramas. The other series I have watched are based on non fictional or everyday life events but the concept was different in this one about real life issues that need help from the law.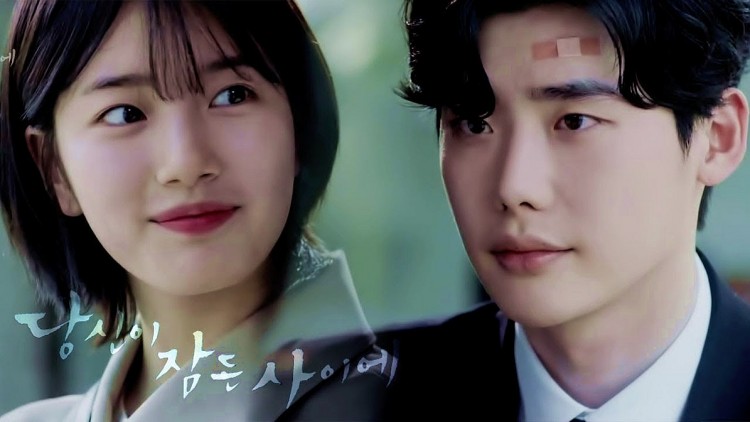 Synopsis: 
It's about how Hong Jo a "star" reporter, dreams about incidents from the future which end up badly and then tries to stop them from happening. When she fails to stop her visions/dreams from coming true, she feels miserable and blames herself for not being able to stop what could've been prevented. Just like that she meets Jae Chan a public prosecutor who also dreams about the future. Hong Jo understands what is happening and tries to help Jae Chan in some ways but, at first he refuses to believe any of it is true and thinks he doesn't need to stop anything as its not his concern.
Then the two, reporter and prosecutor meet a police officer who is also able to foresee future events through his dreams. The three together try to prevent the accidents and take down the corrupt lawyer Lee Yoo Beom.
Why Should You Watch it?
I personally really enjoyed the plot of the drama and would definitely recommend it. The actors did a great job playing their role(s) which I think fit them perfectly. My favourite character was the female lead, Hong-Joo played by Bae Suzy, I enjoyed her character a lot and after watching this drama she became one of my favourite Korean actresses.
I also liked Suzy and Jong-Suk as a couple in the drama and would really like to see them together again. Opposed to popular consensus, my favourite male character in the drama was Jung Hae In's character of the police officer.
He did a great job portraying his characters' love for Hong Jo, who loved her but couldn't be with her. Yet he supported her and continued to work together with the two leads as friends.
The central themes are that of good vs. evil and concept of time. The three leads use their ability for good, to prevent all the damage that could happen. They save the families and people who are being wronged. It also highlights the friendship of the three and the trust they have in each other.
As I said before my favourites were Hong Jo and Jung Hae In. Hong Jo who is also an K-pop idol is beautiful in my opinion and also has a pretty voice, one of her songs in the drama is my favourite. Moreover, while the music in the series is good, I didn't enjoy as the songs are not according to my taste e.g, Rememberable is an amazing song but I really liked "I Love You Boy" and "Come to me" better.
For the setting of the drama, there were multiple scenes such as the court where they present the court proceedings to us, the prosecutor and reporter use their dreams to win over cases for the innocents and victims. Other than that there were many scenes where focus is on snow adding to the overall design of the series. Making the scenes really beautiful.
There are multplie villains in the series but, I personally loved Lee Yoo Beom the main villain for his acting, he makes the drama more intense and interesting to watch. His facial expressions are on point and I enjoy that his character is the villain and not the good guy.
Overall, all the actors have done a nice job of making their characters their own. I like the way Hong Jo's character is fun and silly sometimes but also serious at the same time. Bae Suzy has done a good job playing both sides.
While You Were Sleeping is definitely recommended as a worth-the-watch drama.
Stay tuned to Baaghi TV for more related articles/stories.