Nausheen Shah Makes Shocking Revelations About Nimra Khan's Ex
Lahore, 13th August: Pakistani actress Nausheen Shah makes shocking revelations about Nimra Khan's ex-husband Raja Azam after he announced divorce from her and passed degrading statements on social media.
According to details, Nausheen Shah supported the fellow actress Nimra Khan, while revealing distressing facts about Khan's former husband who took an insulting attitude towards the actress on late Wednesday night.
Hollywood Actress Una Stubbs Passes Away at 84
Nausheen Shah took to her Instagram account and wrote a lengthy post on her Story where she clapped back at Raja Azam.
The actor wrote, "I am sorry but no more silence after watching @nimrakhan_official ex-husband's video. I was invited to Nimra's place where I met him and his mother. He has a drinking problem, impulsive, disrespectful and abusive."
She further wrote, "I know what she went through because of this pathetic man even then she tried her level best to make her marriage work."
Drama Review: Dunk serial finally comes to an end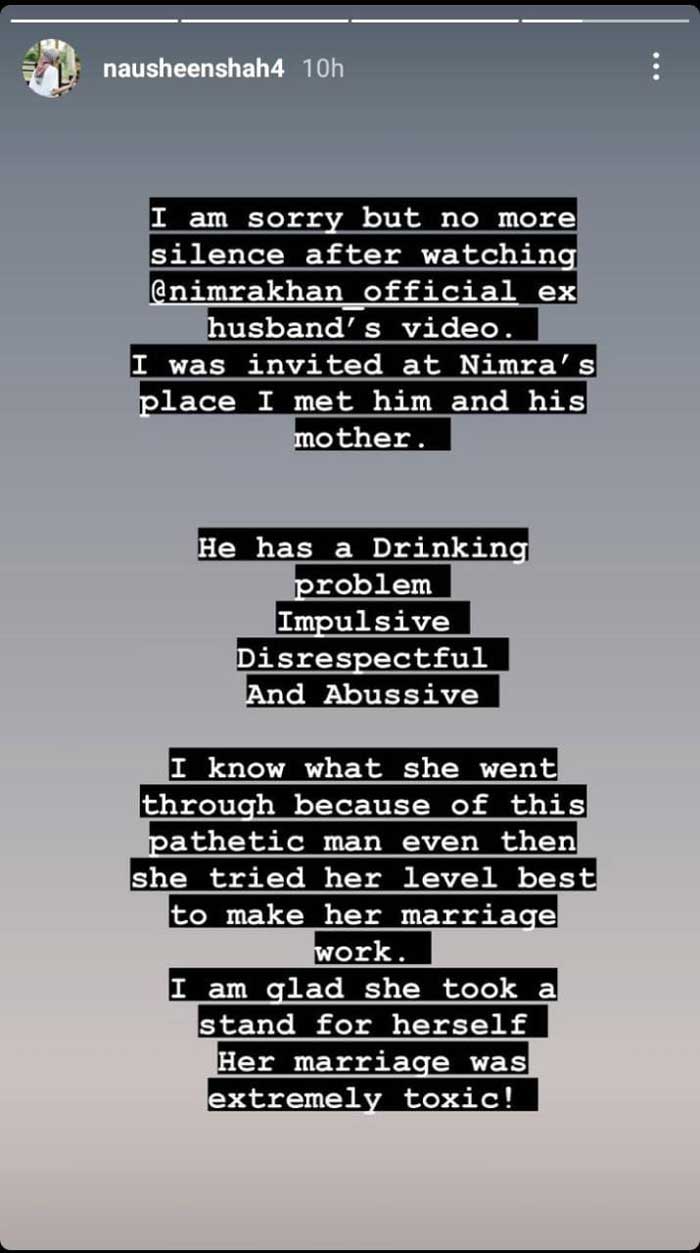 Shah concluded her post by saying, "I am glad she took a stand for herself, her marriage was extremely toxic!"
Baaghi  TV reported on Thursday that Nimra Khan's ex-husband revealed in a live video the day before yesterday that he had divorced the actress because he wanted to.
Read: Nimra Khan's Ex Confirms Divorce, Degrades Her On Social Media
According to reports, Raja Azam blurted out in his video and said, "I got rid of her as she was a proper headache for me." All this time he was degrading the actress and used foul language.
It is to be noted that the couple got married in April 2020. However, Baaghi TV reported last year in September there were rumors that the actress got separated from her husband after she removed all the pictures from her Instagram handle.
Read: Actress Nimra Khan removed all her pictures with her husband
Follow Baaghi TV to read all the latest and trending news!